How to Write a Thesis - Beginner's Guide & Format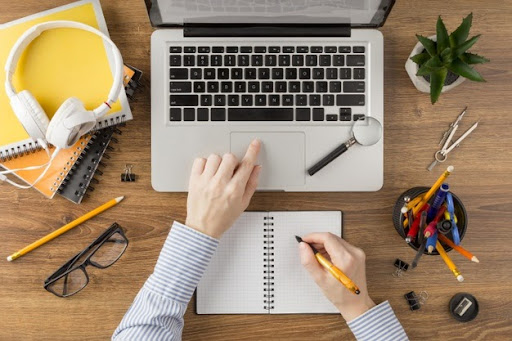 Writing a thesis is an important part of completing your degree. It is the culmination of many years of study within a specific field of study.
However, some high school and college students get confused and take it as a strenuous task. Therefore, you don't need to worry about your thesis submission. Continue reading this blog and get to know how to write a thesis like professional writers.
What is a Thesis?
The thesis is an essential document that every student needs to be submitted at the end of their degree. It is the piece of writing that presents the original research work and findings on a specific topic.
The main purpose of the thesis is to:
Provide a unique argument about the topic.
Give detailed research.
Identify a research question.
Contribute research knowledge.
Normally, a thesis is a long academic paper that often requires months or even years of research, and it is defended in front of the university committee.
Also, a thesis is sometimes known as a dissertation. However, these terms are interchangeable and may vary between universities and countries.
A good thesis should be:
Strong
Defendable
Arguable
Justify the statement presented in the paper
However, you should know your professor's needs for a thesis because every university or teacher has different requirements.
A thesis is different from a dissertation and details about dissertation vs thesis will help you notice these differences.
Thesis Format
Here is a thesis format for your ease.
Preliminary Pages
Title Page
Acknowledgment
Abstract
Table of contents
List of tables and figures
Main Body
Introduction
Literature review
Methodology
Results
Discussion
Conclusion
Ending Section
Reference List / Bibliography
Appendices
Follow this format for writing your thesis. Keep in mind, all types of thesis formats remain the same, but consult your professor and ask them.
Related: A Comprehensive Thesis Format Guide for Beginners
How to Write a Good Thesis?
Writing a thesis is probably a daunting task, especially if you don't know how to write it. Therefore, for your help, we compiled some steps that will guide you in drafting a well-written thesis.
1. Choosing a Topic

The thesis is the research work or academic assignment that you will spend a lot of time on. Therefore, carefully choose the topic for your thesis.

When you choose the topic, you have to keep in mind some points. These are:
The topic should be interesting.
The topic should be easily manageable.
The topic should be related to your area or field of interest.
The topic should be unique and not overly written.
Also, consult your professor and get help from them in the topic selection phase. However, never start writing the thesis on your chosen topic before getting approval from your professor. Good thesis topics are good enough to guide you regarding your research and help you write a strong thesis easily.
2. Choose Thesis Question
In this step, you will carefully consider questions for your thesis that you will answer in your research work. However, make sure that your questions and answers that you write will provide the original content of your research. Also, a logical question will keep your thesis focused, organized, and interesting.
Therefore, when you formulate your thesis topic and direction of the research question. Try developing the 5-10 different questions about your research.
Through this way, you have to flexibly think about your topic and conceptualize how small changes in the wording can change the direction of your research.
3. Conduct Research
After selecting the research question, you will need to research to answer the question. Therefore, try to conduct experiments, read books, articles, and do what you have to do to answer the thesis question.
In this way, you will see if your research project is worth moving forward with or some issues you need to work out. It also guides you in collecting information that you need to move forward to the next steps.
4. Complete the Literature Review
Now, you have to review the literature for your thesis. However, a review of the literature must be in-depth and comprehensive to ensure that your thesis will be important and not redundant.
Therefore, when you review the literature, you should keep in mind some questions.
What other authors have written about your subject?
What is their opinion of your topic?
What methods did they use for conducting the research?
It is important to create the original and relevant thesis. Also, take notes on the background information about your topic.
5. Choose Primary and Secondary Sources
Selecting the primary and secondary sources is necessary for the thesis. However, before choosing the sources, you should know the difference between them.
Primary Sources: These sources are used in the analytical thesis and written by the person who created the theory, experiment, idea, etc.
Secondary Sources: In this type, sources are written about primary sources. You must include in your thesis to show that you have a strong understanding of the critical context of the topic.
6. Manage your Citation
The selection of the citation style depends on your field and the professor's requirements. You must pick the right citation format and use them from the start, rather than add them after you finish your writing.
Therefore, before picking the citation format, you should know the most common formats:
APA (American Psychological Association)
MLA (Modern Language Association)
Chicago
Despite these, there are other citation formats that you will also use for your thesis. Also, keep track of each source that you cited in your thesis.
7. Create an Outline
Creating an outline is essential for you, and it guides you throughout your research work. It works as a plan that you need to accomplish.
In the thesis outline, you should include:
Introduction
Literature Review
Thesis Problem
Methodology
Results
Discussion
Conclusion
With the help of a thesis outline, you will organize your ideas. Therefore, create it first and then start your writing phase.
8. Write the Thesis Introduction
An introduction is the first part of the thesis, in which you can introduce the topic and grab the reader's attention. It is the section in which you define your research scope and state the main research objective.
Some writers write the introduction at last rather than revisit and revise the introduction at several points throughout the writing process.
Also, a good thesis introduction is vital because it decides whether the reader read the entire paper or not.
9. Write the Literature Review
The literature review is the summary of all the existing sources that have already written about your topic. It is a combination of primary and secondary sources that you used for your thesis. You should also explain how your work contributes to the existing research.
Therefore, if you write it in the working thesis, it's good for you. However, if you don't, start writing and do proper research.
10. Describe the Methodology
The methodology section explains which research methods you use for conducting the research. In this section, you should include:
The overall approach.
The methods and tools that you used for your research.
Type of research.
Difficulties that you faced during the research.
11. Results
In this part, you will mention the result findings in reference to the good thesis statement and the hypothesis. Demonstrate that you achieve the expected result or not.
12. Discussion
In the discussion section, you will explain the research outcomes. Also, explain if the results are different than the expected ones, discuss the reasons behind it and the relationship between the results.
13. Write a Strong Thesis Conclusion
The conclusion of the thesis should be strong and powerful. It helps and encourages the readers to do further research on the topic.
However, avoid writing the same information again and not introduce new ideas. The good rule is to try to keep it short and clearly summarize the whole paper.
14. References
In the references section, add the sources that you used in your thesis. It is a mandatory page that allows you to add credibility to your work by avoiding plagiarism. For the references, use the proper citation format.
15. Appendices
In the appendices, you include the information that doesn't mention in the main body of the thesis. Appendices are the section in which you add the following information:
Tables and charts
Include the list of additional material
The list of equipment that you used for analysis
16. Proofreading and Editing
Once you finish writing your final draft, take some time and then start the proofreading step. In this step, check your thesis with your professor's guidelines. Make sure that your thesis is free from all grammatical, vocabulary, and punctuation mistakes.
Thesis Example
Take a look at this sample and get an idea from them of a well-written thesis.
Now, you get to know how to write a thesis paper but don't have time to write it or have weak thesis writing skills. Simply consult GradSchoolGenius.com.
Our professional writers offer the best thesis writing service of all types of academic levels. They also guide you in how to write an essay, term papers, research proposals, argumentative thesis statement, and other academic assignments.
So, what are you waiting for? Contact us now and get a well-written dissertation at affordable rates.